Monoflange Valve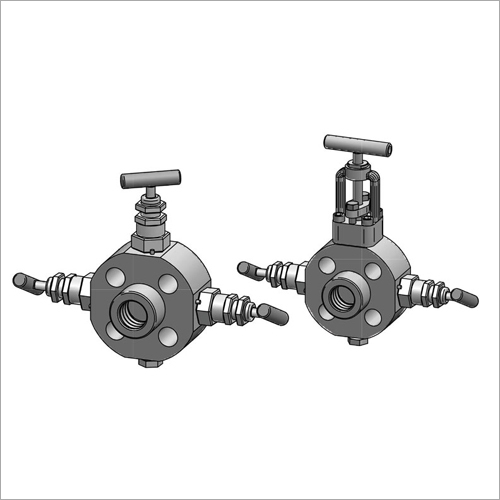 Monoflange Valve
Product Code : 03
Brand Name : YDB VALVES LLP
Price And Quantity
Minimum Order Quantity
10 Piece
Price
8000 INR
Product Specifications
Product Type
Valve
Application
Industrial Use
Type
Monoflange Valve
Power
Hydraulic Watt (w)
At YDB valves, we design monoflange valves to replace conventional multi-valves installations. All our monoflange valves are produced in accordance with the highest standards.
Monoflange Valves
YDB monoflange valves are designed to be directly installed on the process equipment. The monoflange valve can either be directly attached with pressure instrumentation where there's an ANSI/ASME flange or it can be sandwiched between various equipments as per the design requirements.
The design of the YDB monoflange valves is such that it reduces the number of potential leak paths to make your system more safe and compact. Monoflange valves will allow you to achieve significant weight reduction in the system and cost savings. Most operators prefer monoflange over traditional double block and bleed valves as it gives them weight and space advantages.
YDB monoflange valves are available in single block, block and bleed, block bleed block, and block block bleed. All YDB monoflange valves are factory tested.
Our monoflange valves range from process to instrument valves.
Process Monoflange
Process monoflanges replace the traditional isolation valve and are closely coupled to the process piping flange to connect process with instruments. Many markets have benefited from process monoflanges as they combine instrument and piping valves in a single unit. The standard connections for process monoflange are provided in accordance with the ASME B16.5.
Instrument Monoflange
Coupling of instrument monoflanges to a pre-installed isolation valve provides a compact instrument double block and bleed valve. The standard connections for instrument monoflange are provided in accordance with the ASME B16.5.
Applications :

Monoflange valves are used in upstream onshore/offshore oil and gas production. They're also used with gauge pressure instruments to minimize the weight and size of the pipe and valve assemblies used for vent, calibration and primary or/and secondary isolation.
The highly sophisticated design features of monoflange valves make them suitable for several other applications as well. These include:
Isolation service
Level measurement
Chemical injection
Sampling
Pressure measurement
Process to instrument interface
Chemical seal
Flushing connections
Drains for pipes and tanks
Corrosive pressure media
Industrial process plants
Benefits of Monoflange Valves
The one piece body of monoflange reduces the number of potential leak points.
Monoflange valves enable a compact and optimal measuring point assembly.
Size and weight of the installation is significantly reduced
Reduces vibrations in the system
Ensures structural integrity of the system
Design Range
Pressure Class
YDB monoflanger valves can handle pressure up to 10,000 psi (690 bar)
150 to 2500 flange class
Monoflange Valves Catalogue
We offer several configurations in our monoflange valves. Our monoflange valve product range includes:
Single Block Monoflange Valve
Block and Bleed Monoflange Valve
Block and Block Monofalnge Valve
Block Bleed Block Monoflange Valve
Block Block Bleed Monoflange Valve
Monoflange Valve
Features :
Compact Block, Block and Bleed assemblies with minimal potential leak points.
Compatible with ASME B16.5 Flange Connections from 1/2 inch to 2 inch (DN 15 to DN 50).
ANSI B16.5 150 to 2500 flange class and API 10000. Combined needle and OS&Y valves available.
Raised face and ring type joint flange face styles.
One piece forged construction flange as standard
4mm Needle valve orifice standard and for bigger orifice please contact us.
Anti-blow out valve stem.
Fire safe designed to meet BS 6755 part 2/API 607 NACE MR 0175/ISO 15156 compliant material available.
Standard material of construction: SS316, SS316L, Carbon steel, A105, Duplex.
Optional material: Super Duplex, Inconel, Hastelloy, 6Mo, Monel.
Ordering Information :
MFV - Monoflange Valve
MFV05 Series -Single Block
Flange to 1/2" NPTF
Isolate : OS&Y or Needle
| | | |
| --- | --- | --- |
| Designator | Isolate | Intermediate Ordering # |
| Y | OS&Y | MFV05Y |
| N | Needle | MFV05N |
MFV10 Series - Block & Bleed
Flange to 1/2" NPTF
Isolate : OS&Y or Needle
Bleed : OS&Y or Needle
| | | | |
| --- | --- | --- | --- |
| Designator | Isolate | Bleed | Intermediate Ordering # |
| Y | OS&Y | OS&Y | MFV10Y |
| N | Needle | Needle | MFV10N |
| D | OS&Y | Needle | MFV10D |
MFV15 Series - Block & Block
Flange to 1/2" NPTF
Primary Isolate : OS&Y or Needle
Secondary Isolate : Needle
| | | | |
| --- | --- | --- | --- |
| Designator | Primary Isolate | Secondary Isolate | Intermediate Ordering # |
| Y | OS&Y | OS&Y | MFV15Y |
| N | Needle | Needle | MFV15N |
| D | OS&Y | Needle | MFV15D |
MFV20 Series - Block Bleed Block
Flange to 1/2" NPTF
Primary Isolate : OS&Y or Needle
Bleed : Needle
Secondary Isolate : OS&Y or Needle
| | | | | |
| --- | --- | --- | --- | --- |
| Designator | Primary Isolate | Bleed | Secondary Isolate | Intermediate Ordering # |
| Y | OS&Y | Needle | OS&Y | MFV20Y |
| N | Needle | Needle | Needle | MFV20N |
| D | OS&Y | Needle | OS&Y | MFV20D |
MFV25 Series - Block Block Bleed
Flange to 1/2" NPTF
Primary Isolate : OS&Y or Needle
Bleed : Needle
Secondary Isolate : OS&Y or Needle
| | | | | |
| --- | --- | --- | --- | --- |
| Designator | Primary Isolate | Bleed | Secondary Isolate | Intermediate Ordering # |
| Y | OS&Y | Needle | OS&Y | MFV25Y |
| N | Needle | Needle | Needle | MFV25N |
| D | OS&Y | Needle | OS&Y | MFV25D |
A. Process Connection Size

Flange Class

Designator

Class Rating

8

1/2

12

3/4

16

1

24

1- 1/2

32

2
B. Class Rating

Flange Class

Designator

Class Rating

150

150

300

300

600

600

900

900

1500

1500

2500

2500
C. Process Connection Type
A - Flange, RF Smooth
B - Flange, Concentric Serrated
C - Flange, RTJ
D. Outlet Connection
8N - 1/2 Female NPT
12N - 3/4 Female NPT
F - Flange
E - Body Material
S - SS316
C - Carbon Steel
D - Duplex
M - Monel
I - Inconel
F - Trim Material
S - SS316
C - Carbon Steel
D - Duplex
M - Monel
I - Inconel
G - Packing Material
P - PTFE
G - Graphite
RP - Reinforced PTFE
F - Flange (Same as Process)
H - Vent
1/4 Female NPT - 4
1/2 Female NPT - 8
I- Trim type
MONOFLANGE SINGLE BLOCK - MFV05 SERIES
MFV05-SERIES
SIZE

CLASS

DIMENSIONS

A

B

C

L

1/2

150

88.90

60.45

1.59

60.00

300

95.25

66.55

1.59

60.00




600

95.25

66.55

6.35

60.00




900/1500

120.65

82.55

6.35

60.00




2500

133.35

88.90

6.35

60.00




3/4

150

98.55

69.85

1.59

60.00

300

117.35

82.55

1.59

60.00




600

117.35

82.55

6.35

60.00




900/1500

130.05

88.90

6.35

60.00




2500

139.70

95.25

6.35

60.00




1

150

107.95

79.25

1.59

60.00

300

123.95

88.90

1.59

60.00




600

123.95

88.90

6.35

60.00




900/1500

149.35

101.60

6.35

67.00




2500

158.75

107.95

6.35

67.00




1-1/2

150

127.00

98.55

1.59

67.00

300

155.45

114.30

1.59

67.00




600

155.45

114.30

6.35

67.00




900/1500

177.80

123.95

6.35

74.00




2500

203.20

146.05

6.35

80.00




2

150

152.40

120.65

1.59

60.00

300

165.10

127.00

1.59

60.00




600

165.10

127.00

6.35

60.00




900/1500

215.90

165.10

6.35

67.00




2500

234.95

171.45

6.35

80.00



MONOFLANGE SINGLE BLOCK & BLEEED - MFV10 SERIES
MFV10-SERIES

SIZE

CLASS

DIMENSIONS

A

B

C

L

1/2

150

88.90

60.45

1.59

60.00

300

95.25

66.55

1.59

60.00




600

95.25

66.55

6.35

60.00




900/1500

120.65

82.55

6.35

60.00




2500

133.35

88.90

6.35

60.00




3/4

150

98.55

69.85

1.59

60.00

300

117.35

82.55

1.59

60.00




600

117.35

82.55

6.35

60.00




900/1500

130.05

88.90

6.35

60.00




2500

139.70

95.25

6.35

60.00




1

150

107.95

79.25

1.59

60.00

300

123.95

88.90

1.59

60.00




600

123.95

88.90

6.35

60.00




900/1500

149.35

101.60

6.35

67.00




2500

158.75

107.95

6.35

67.00




1-1/2

150

127.00

98.55

1.59

67.00

300

155.45

114.30

1.59

67.00




600

155.45

114.30

6.35

67.00




900/1500

177.80

123.95

6.35

74.00




2500

203.20

146.05

6.35

80.00




2

150

152.40

120.65

1.59

60.00

300

165.10

127.00

1.59

60.00




600

165.10

127.00

6.35

60.00




900/1500

215.90

165.10

6.35

67.00




2500

234.95

171.45

6.35

80.00



MONOFLANGE DOUBLE BLOCK - MFV15 SERIES
MFV15-SERIES

SIZE

CLASS

DIMENSIONS

A

B

C

L

1/2

150

88.90

60.45

1.59

60.00

300

95.25

66.55

1.59

60.00




600

95.25

66.55

6.35

60.00




900/1500

120.65

82.55

6.35

60.00




2500

133.35

88.90

6.35

60.00




3/4

150

98.55

69.85

1.59

60.00

300

117.35

82.55

1.59

60.00




600

117.35

82.55

6.35

60.00




900/1500

130.05

88.90

6.35

60.00




2500

139.70

95.25

6.35

60.00




1

150

107.95

79.25

1.59

60.00

300

123.95

88.90

1.59

60.00




600

123.95

88.90

6.35

60.00




900/1500

149.35

101.60

6.35

67.00




2500

158.75

107.95

6.35

67.00




1-1/2

150

127.00

98.55

1.59

67.00

300

155.45

114.30

1.59

67.00




600

155.45

114.30

6.35

67.00




900/1500

177.80

123.95

6.35

74.00




2500

203.20

146.05

6.35

80.00




2

150

152.40

120.65

1.59

60.00

300

165.10

127.00

1.59

60.00




600

165.10

127.00

6.35

60.00




900/1500

215.90

165.10

6.35

67.00




2500

234.95

171.45

6.35

80.00



MONOFLANGE BLOCK BLEED BLOCK - MFV20 SERIES
MFV20--SERIES
SIZE

CLASS

DIMENSIONS

A

B

C

L

1/2

150

88.90

60.45

1.59

60.00

300

95.25

66.55

1.59

60.00




600

95.25

66.55

6.35

60.00




900/1500

120.65

82.55

6.35

60.00




2500

133.35

88.90

6.35

60.00




3/4

150

98.55

69.85

1.59

60.00

300

117.35

82.55

1.59

60.00




600

117.35

82.55

6.35

60.00




900/1500

130.05

88.90

6.35

60.00




2500

139.70

95.25

6.35

60.00




1

150

107.95

79.25

1.59

60.00

300

123.95

88.90

1.59

60.00




600

123.95

88.90

6.35

60.00




900/1500

149.35

101.60

6.35

67.00




2500

158.75

107.95

6.35

67.00




1-1/2

150

127.00

98.55

1.59

67.00

300

155.45

114.30

1.59

67.00




600

155.45

114.30

6.35

67.00




900/1500

177.80

123.95

6.35

74.00




2500

203.20

146.05

6.35

80.00




2

150

152.40

120.65

1.59

60.00

300

165.10

127.00

1.59

60.00




600

165.10

127.00

6.35

60.00




900/1500

215.90

165.10

6.35

67.00




2500

234.95

171.45

6.35

80.00



MONOFLANGE BLOCK BLEED BLOCK - MFV20 SERIES
MFV25--SERIES

SIZE

CLASS

DIMENSIONS

A

B

C

L

1/2

150

88.90

60.45

1.59

60.00

300

95.25

66.55

1.59

60.00




600

95.25

66.55

6.35

60.00




900/1500

120.65

82.55

6.35

60.00




2500

133.35

88.90

6.35

60.00




3/4

150

98.55

69.85

1.59

60.00

300

117.35

82.55

1.59

60.00




600

117.35

82.55

6.35

60.00




900/1500

130.05

88.90

6.35

60.00




2500

139.70

95.25

6.35

60.00




1

150

107.95

79.25

1.59

60.00

300

123.95

88.90

1.59

60.00




600

123.95

88.90

6.35

60.00




900/1500

149.35

101.60

6.35

67.00




2500

158.75

107.95

6.35

67.00




1-1/2

150

127.00

98.55

1.59

67.00

300

155.45

114.30

1.59

67.00




600

155.45

114.30

6.35

67.00




900/1500

177.80

123.95

6.35

74.00




2500

203.20

146.05

6.35

80.00




2

150

152.40

120.65

1.59

60.00

300

165.10

127.00

1.59

60.00




600

165.10

127.00

6.35

60.00




900/1500

215.90

165.10

6.35

67.00




2500

234.95

171.45

6.35

80.00



Trade Information
Payment Terms
Cash in Advance (CID), Cash Advance (CA)
Supply Ability
10 Piece Pieces Per Day
Delivery Time
1 Week
Packaging Details
carton Box
Main Export Market(s)
Australia, North America, Eastern Europe, Middle East, Africa, Central America, South America, Western Europe, Asia
Main Domestic Market
All India
Get in touch with us